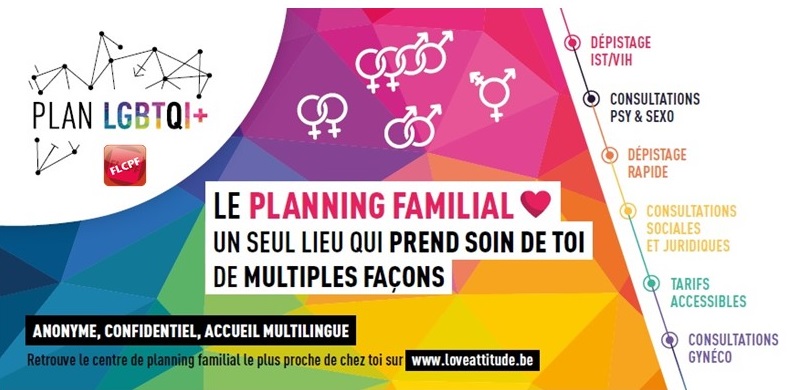 The Planned Parenthood Federation (FLCPF) started in 2019 a project aiming to welcome the LGBTQI+ community in to the Family Planning Centres, based upon the recommendations of the report « Health 4 LGBTI » (European Commission, 2017). This project is realized in collaboration with organizations: Genres Pluriels, Ex-Aequo, O'Yes, Tels Quels, MAC Brussels, Observatoire du Sida & des Sexualités and the Centre "Plan F".
Goals:
Promote a better access for LGBTQI+ people to the Family Planning Centres;
Enhance LGBTQI+ people care by questioning the heteronormativity and cis-normativity in the medical, social and psychological practices of the CPFs.
Actions:
Training programme for the healthcare professionals of centres (+ lien hypertexte);
Campaigning with tools (guide of good practices) for the healthcare professionals (+ lien hypertexte);
Create a communication strategy for LGBTQI+ people (+ lien hypertexte).
Achievements 2019: www.planningfamilial.net/thematiques/lgbtqi/ Website: https://www.planningfamilial.net
Donate
LABEL: FLCPF asbl (Fédération Laïque de Centres de Planning Familial)
IBAN: BE24 0013 2387 9238
BIC: GEBABEBB
COMMUNICATION: S4L 2020 – Plan LGBTQI+
No tax deduction possible with this project.